HOME
> Past Lives Project
Past Lives Project
by Mark on 5-3-2023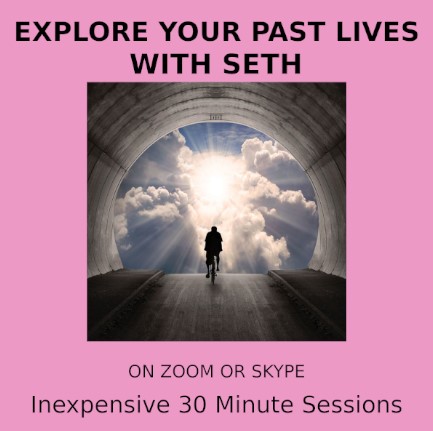 ORDER YOUR SESSION HERE
Only $90 USD
What are the benefits of experiencing a Past Life Session with Seth?
1. To discover the origins of personal talents and innate abilities.
2. To heal chronic paranoias by safely revisiting the lives in which they were created.
3. To realize that current Soul Family members were also part of your Past Lives.
4. To understand why you may have a particular attraction to certain eras in time or to certain geographical locations.
5. It can be a lot of fun and very educational. Experiencing the realities of the past first hand gives insights not available through reading a book or watching a movie.
Your Past Life Session
- We send you a link to connect with us after you place your order.
- Choose either Zoom or Skype for your session. These are the two most popular teleconferencing programs.


- At your appointment time you connect with us over your cell phone, tablet, or desk top computer.
- Mark channels Seth who will give you suggestions to relax, to focus within and to travel back in time to experience a Past Life.
- Seth will give you hypnotic suggestions to remember everything that occurs in your Past Life Session.
- Seth will slowly count you out of the hypnotic state and bring you back to surface awareness.